Player Character

Edit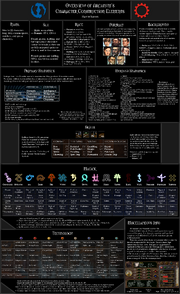 Character development in Arcanum happens in many ways. There is, of course, the racial aspect of a character, which will affect him every time he speaks to anyone in the game. Different races react to other races with varying degrees of humor or disdain. Then there are the players choices in his statistics. If a player is charismatic, he gets more followers; if she is beautiful, people's reactions to her are always better. And then there are choices in skills - concentrate points in your skills, and you'll be better in that area, while someone who wants to be a diplomat should spend more in the social set. Finally, a player must choose which side of the magic/technology line he is going to reside on. Any points spent in the technological disciplines not only makes you more knowledgeable in that area, but also raises your technological aptitude, which in turn makes it more difficult for you to cast spells. The same applies for studying the colleges of magick.
And, of course, the choices you make while playing the game will be the most tangible way to develop your character. Kill a few too many people in Tarant , and you gain a bad reputation in that city. Remove a band of bothersome thieves and become the town hero. Your followers will react to the kind of person you are, and the choices you make. There's not an aspect of this game that doesn't affect how a player views himself, or how the game environment views him. There is also number of pre-generated characters to start with:
Character Statistics & Abilities
Edit
Choosing A Race

Edit
A character can start as a human or as one of the non-human races. Selecting different races will have an effect on the character's stats and abilities.
For more information on how the different races are viewed with Arcanum, visit the Races of Arcanum essays within The World section.
Character Backgrounds
Edit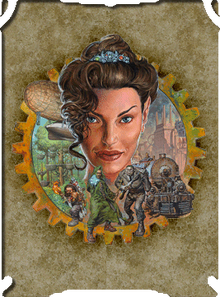 Past is prologue when roleplaying in Arcanum. Your character's background will affect your skills, stats, and your general approach to the game world. Fortunately, there are dozens of colorful backgrounds from which to choose. What other game lets you step into the shoes of an arsonist, escaped lunatic, or a coddled youth?
The following are examples of what you could be within the world of Arcanum.
Non-Player Characters
Edit
Within the world of Arcanum, there are hundreds of characters you will encounter. These characters populate the towns and cities of the world, or may be found wandering on their own adventures throughout the game. Many of these folk are prime sources of information for you in your travels, and some may even join you for a time on specific quests or errands. Of course, some may not always have the best interests of your party at heart either, and trust can be hard to come by in Arcanum at times.
Major NPCsEdit
Other NPCsEdit
Holding A Conversation
Edit
Dialogue in Arcanum reflects the best aspects of the quest system and character development in general. They tried to make the characters as realistic as possible. The dialogue is conversational and flowing, and when possible we avoid standard banks of the same old questions, and allow the player to pull the information he wants from the character, letting him direct the conversation, and the mood. And remember, you are getting feedback after EVERY response, so conversations can turn around rather quickly depending upon how you decide to treat your partner in conversation.
For more information on how the different races are viewed within Arcanum, visit the Races of Arcanum essays within The World section. 
Community content is available under
CC-BY-SA
unless otherwise noted.