Jurassic World: Dominion Dominates Fandom Wikis - The Loop
Play Sound
WARNING: This page contains significant spoilers to Arcanum's storyline!
Followers, also known as companions, are characters which may accompany the Living One on their journey through Arcanum. Each follower has different preferences, mannerisms, and may choose not to join the player's party if certain conditions are not met. Some followers may have a disliking for each other, and will not travel in each other's presence, but high persuasive skills can make them reconsider.
Experience
[
]
Most followers will not join you unless you are at least their level when they join your party. A notable exception is Dog, who will join you regardless of level.
Followers do not gain experience through combat, but rather will gain a level when the player character does. Therefore it is best to pick up followers as soon as they become available, so that they do not end up staying behind your own level.
The level cap in Arcanum is 50. In older versions of the game, this also means that followers are unable to level up once the main character reaches 50, even if their own level is lower when this happens. In newer versions this is supposedly fixed by changing the level cap variable to 51, which allows the main character to keep gaining experience without increasing their own level.
Commands
[
]
Players can issue commands to a single follower or their entire party in a few ways. Certain instructions can help with saving followers from dangerous situations or for creating new combat strategies. Note that there is a certain radius beyond which followers will not hear the player's commands.
Right-clicking a follower's portrait from the column on the left side of the screen allows the player to choose a command which will then be sent to that follower. It is also possible to view a follower's inventory or character screen this way, bypassing the need for dialogue.
Another method of sending commands is by broadcasting messages. To do so, a player must open the chat window by pressing Enter, then typing a command and sending it by pressing Enter again. Preface a message with a follower's name to instruct only that follower (e.g. Virgil Wait), or preface it with # to instruct all followers within range (e.g. #Wait). Below is a list of available broadcast messages, but keep in mind that some contain mature language.
Walk — Instructs follower(s) to walk to a specified tile.
Attack — Instructs follower(s) to attack an object or creature.
Stay Close — Instructs follower(s) to stay close to the player.
Spread Out — Instructs follower(s) to stay further away from the player.
Back Off — Instructs follower(s) to stop attacking an object or creature.
Follow — Seems to do nothing?
Wait — Instructs follower(s) to wait. Seems to work fine.
Leave — Instructs follower(s) to leave the party. Seems to cause broken dialogue in some cases.
Come — Same as Follow?
Move — Same as Walk?
Close — Same as Stay Close?
Spread — Same as Spread Out?
Fuck You — Causes follower(s) to insult the player, leave the party, and sometimes to become aggressive to the player.
Fuck — Same as Fuck You?
Join — Causes targeted player to join your party in Multiplayer modes. Has no effect on NPC followers.
Disband — Causes targeted player to leave your party in Multiplayer modes. Has no effect on NPC followers.
Stop — Same as Back Off?
Finally, the player can use hotkeys to instruct all followers quickly. See the respective page for details.
Vocalization
[
]
An element of Arcanum which quite positively stands out is the voice acting of characters important to the storyline. The list of followers below indicates if they are voiced or not.
There are only a few voiced follower NPCs:
There are only a few voiced non-follower NPCs:
Technology and Magic
[
]
Followers can lean towards technology or magic (or neither). Since technology and magic cancel each other out, it's often not beneficial to combine followers of opposing aptitudes. Healing spells will fizzle on technologically minded followers. For example, having Magnus and Virgil both is largely pointless except for the dialogue each provide, as other characters will work better with Virgil and others with Magnus.
Physical fighters who do not use either magic or technology will work well with all party members however.
Permanent Followers

[

]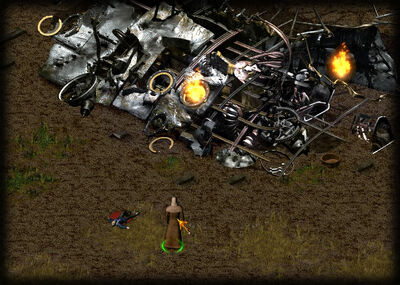 Virgil is a Panarii monk and the first NPC the player will encounter in the game. He believes the player to be the reincarnation of an ancient legend, and will automatically join the player's party from the start of the game unless the player goes to extensive lengths to convince him not to. Part-way through the "good path" game-play Virgil will leave the player character for personal reasons, and at a later point the player will arrive just in time to find him being killed. It is possible to resurrect Virgil, but he will have undergone a serious personality change ("Zen" Virgil). Virgil will also undergo a personality change ("Petulant" Virgil) if one takes the evil path game-play. These changes are reflected in dialogue but with no change in stats or level.
Virgil is a useful companion to have around unless and until you reach a technical aptitude of around 35 (then his spells will generally fail against you). Virgil is the most interesting follower in the game. He has a history that you'll slowly discover, and he adds the most dialogue of any of the followers. He is also capable of picking locks.
To get Sogg to join the party, you need to have a charisma of at least 9 and an available follower slot. Sogg will develop into an excellent fighter, and he doesn't care what you do in the game, so as long as you add him to your party early enough, he's a pretty good companion.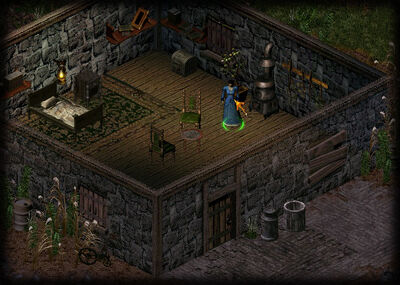 Jayna Stiles is a herbologist with a technological affinity. She will offer her services as a party member as long as the player character has a technological aptitude of at least 10, is a high enough level, and is capable of conversing with her on the subject of her study.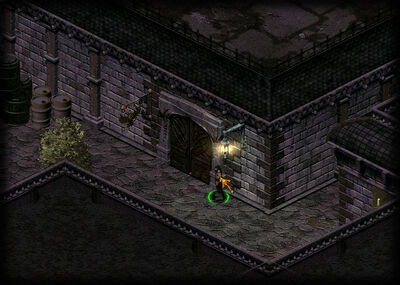 Magnus Shale Fist is the second most story-developed follower in the game - Virgil being the first - with a dozen places where he adds dialogue. There are also two places in the game (at P. Schuyler & Sons and at the Iron Clan) where having Magnus in your party can earn you a fate point.
If you have a positive alignment and do not have a tragically low intelligence, he'll offer to join you. Magnus is useful to have in your party at least a short time so he can make you balanced swords and pure ore.
Magnus is sensitive to beauty, and if your character is too ugly, he will refuse to join the party. If a spell is used to raise beauty or to charm Magnus, he will leave the party once it wears off. Still, it is possible to play an ugly character and increase your reaction score temporarily - with items, clothes, or spells, for example - to raid P. Schuyler & Sons with Magnus in your party. As said before, this can at least earn you a fate point. Sometimes, Magnus can stay in your party after the P. Schuyler & Sons quest, because his reaction towards you will slightly increase, however, you might lose him if you ask him to wait, or if you have to leave your party for a while (when fighting in the Pit on the Isle of Despair, for example).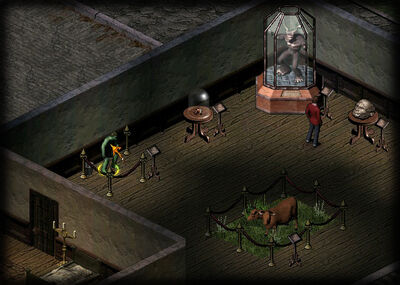 Gar is short for Garfield Thelonius Remington III. Gar is a particularly ugly human who is being displayed as an attraction at H. T. Parnell's in the city of Tarant. A player character with a high level of intelligence and persuasion (level 2) could uncover Gar's true intelligence by asking him about tea. After that you can ask H.T. Parnell about "Gar the human" and pretend to blackmail him, and Parnell will let you take Gar off his hands. When you talk to Gar next, you can either add him to your party, or you can release him and earn a fate point.
Dog (Worthless Mutt)

[

]
Dog can be found slumped on the floor near Ashbury inn. He is being berated and kicked to death by an angry gnome, at which point the player has the option of rescuing him. If the player takes too long to do so, he will die. Once he is rescued, Dog will immediately join as a companion and despite his helpless demeanor when first encountered, becomes the most powerful melee companion available. He will also not count against the maximum follower limit.
It's not clear when the gnome starts kicking Dog. If you want to add Dog to your party, you should head for him right away when you visit Ashbury for the first time. Otherwise the gnome might kill him.
DRAWBACKS:
With Dog in your party you will not be able to board the train.
Dog doesn't have an inventory, and as such cannot help you carry stuff.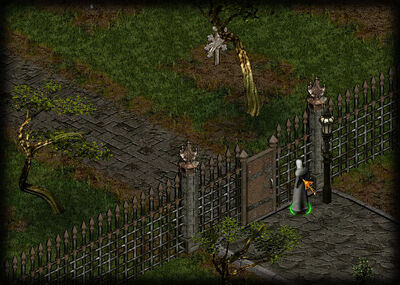 Geoffrey Tarellond-Ashe is a necromancer, suspiciously located outside a graveyard with a problem of risen dead. He will ask for the player's help to retrieve a powerful artifact from the catacombs under the cemetery. He can be convinced to work with a player who has an evil alignment. Then if the quest was a success, he will offer to stay as a permanent companion. However, Geoffrey will leave the party if his alignment becomes more than -25 points less than the player, so be careful when giving him a Dark Helm or the Bangellian Scourge, or performing a quest that makes the player's alignment rise above zero.
Dante can be found drowning his sorrows in the Sour Barnacle in Black Root. He has fallen out of favour with King Praetor of Dernholm who could previously have tasked the player with collecting Black Root's taxes. If the player has a good alignment and makes this task known to Dante before collecting said taxes, then he will see this as an opportunity to regain the favour of the king and offer his services to the player. When the player then collects and turns in the taxes to the king, they are presented with the opportunity to speak for Dante, in which case he will leave the party. Dante will also leave the party if the player's alignment becomes evil. If a player has Dante wait while the taxes are given to King Praetor, then he can rejoin the party as a permanent follower. His reaction is unaffected by beauty.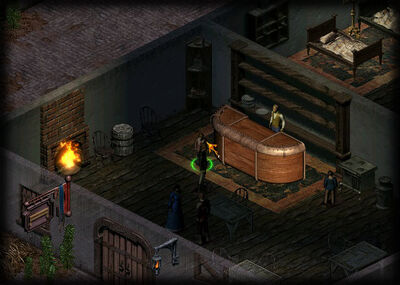 Vollinger is a gunslinger who can be found drinking in the King's Inn in Dernholm. He will offer to join the player upon meeting. Level 15 required for him to join.
Vollinger will ordinarily betray the player, however if you convince the Molochean Hand to stop pursuing you at T'sen-Ang, or speak to him directly about the Molochean Hand, he will come clean and will no longer betray you. Alternately you can attempt to bypass his conversation at T'sen-Ang if you have not met the requirements to keep him loyal.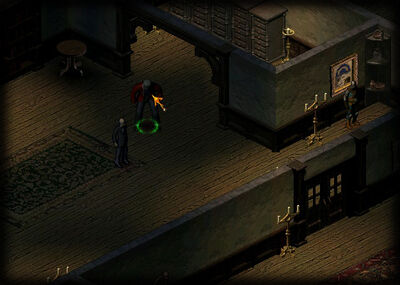 Appearance

Location
Tarant, Bates Mansion
Initial level
16
Race
Ogre
Sex
Male
Alignment
Good
Voiced
No
Stats
ST 22, CN 8,
DX 15, BE 2,
IN 6, WP 11,
PE 9, CH 8
Skills
Dodge, Melee

Aptitude

Neither
Chukka is the personal bodyguard of Gilbert Bates. After the player has investigated the Black Mountain Clan on behalf of Bates and agreed to travel to the Isle of Despair, Bates will offer the services of Chukka, just once, provided the player has an Intelligence of at least 5 and a Charisma of at least 12. Chukka will accept the player's invitation to join their group if the player is at least level 15, has a positive alignment, and there is an open spot available in the group.
Chukka is an ogre and a powerful melee fighter, but he's also good-aligned and will take offence if you perform any evil deeds. In fact if the player's alignment drops below zero, Chukka will leave the group.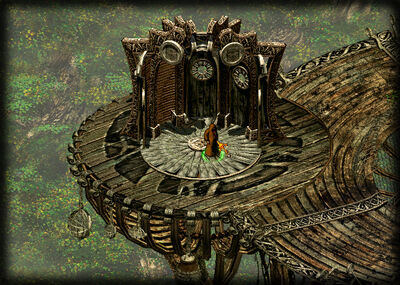 Jormund is a Dwarven Wizard living in the Elven tree city of Qintarra, as strange as it sounds. He is being held under an apprentice contract for life to his Elven master Wrath, also of Qintarra. Jormund drops hints to the player that he wishes the contract would end sooner, but only under honorable circumstances. Wrath later dies under mysterious circumstances, at which point Jormund is placed under arrest. If the player finds the true murderer and frees Jormund then he will offer his valuable staff as a reward. He will also offer his services as a follower, provided that the player is not excessively evil, is of high enough level, and if there is an open spot in the party. Being a Dwarf, Jormund must spend twice as much fatigue as other races when casting spells. So if he joins the group it may be best to return his staff to him and let him engage in physical melee rather than having him rely on his battle magic.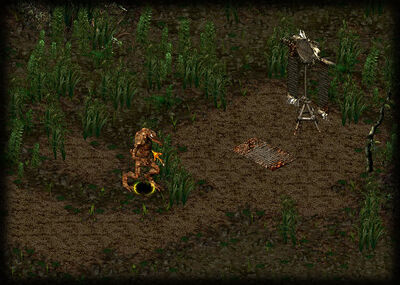 Appearance

Location
Bedokaan Village
Initial level
20
Race
Bedokaan
Sex
Male
Alignment
Neutral
Voiced
No
Stats
ST 12, CN 12,
DX 16, BE 8,
IN 8, WP 9,
PE 12, CH 8
Skills
Bow, Melee, Dodge, Fire, Earth, Nature

Aptitude

Magic
To get Waromon to join your party, you must resolve the conflict with the poachers through dialogue. Then, if you tell the Bedokaan chieftain Kan Kerai your story, he'll suggest you take Waromon with you to help you out. Waromon will eventually gain expert training with the bow, and master training with melee weapons, so he's a good companion to have if you're diplomatic enough to get him. Waromon is unaffected by beauty and cannot wear torso armor, though he can wear helms, gauntlets, boots, and jewelry. He has naturally high AC and resistance.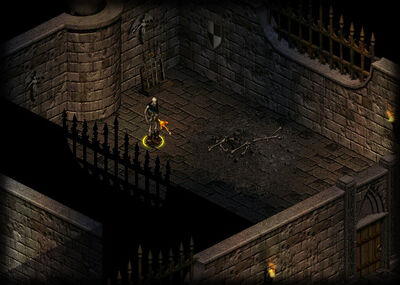 When the player finds Torian Kel he is a cursed undead warrior in the Ancient Temple, and he must have his flesh restored using blood from the Dungeon of the Dragon Pool. If the player completes this quest in a timely manner, then Torian will offer to join the party as long as the player has an empty follower slot and an evil alignment (in the patched version the player can be good but lower than +25). If Magnus is in the party then the Dwarf will leave, citing his distain for the undead. If Geoffrey is in the party then he will opine the same, but he will not leave. Torian Kel may betray the player at the final battle, depending upon some final dialouge choices.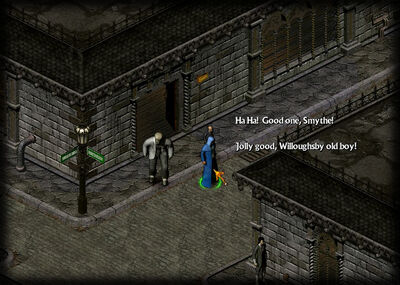 Appearance

Location
Tarant, Willoughsby Residence
Initial level
25
Race
Human
Sex
Male
Alignment
Good
Voiced
No
Stats
ST 6, CN 10,
DX 15, BE 8,
IN 12, WP 15,
PE 8, CH 8
Skills
Fire, Necromantic White, Phantasm

Aptitude

Magic
After returning from Qintarra, the player can stumble upon Perriman Smythe in conversation with Willoughsby at his residence in Tarant. He has strong objections to necromancers and will not join the party with Geoffrey unless you are a Master in Persuasion.
The main problem with Perriman is that he is a companion that you find very late in the game: your level will probably be much higher (30-35), which makes him inefficient in combat.
However, being a healer, he will be a good support companion for a warrior-type character.
Z'an Al'urin is a dark elf who can be found in T'sen-Ang. She is second guessing the motives of the Dark Elves and if the player is honest with her in conversation she will offer her services, however she does not get on well with Raven and may not wish to join if Raven is present in the party. It would take persuasion and negotiation to have the two characters come to terms with each other. She will only join if the player has an evil alignment, and will leave if the player's alignment goes above zero.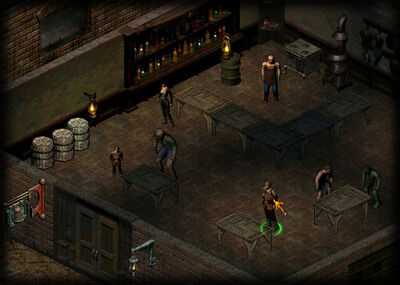 Appearance

Location
Tarant, The Boil
Initial level
30
Race
Human
Sex
Male
Alignment
Neutral
Voiced
No
Stats
ST 9, CN 8,
DX 12, BE 8,
IN 13, WP 8,
PE 18, CH 8
Skills
Electric and Explosives (four schematics in both)

Aptitude

Technology
Sebastian will only show up after you've spoken to Edward Willoughsby about the "personal measures" he's taking in the Boil (requires persuasion. Then Sebastian will join your party if you kill one or two of the gang leaders in the Boil, and if you reveal your whole story to him. Sebastian is carrying a plethora of tech gear, so you might want to add him long enough to acquire them from him.
Tollo Underhill

[

]
Appearance

Location
Dernholm, The Pits
Initial level
30
Race
Halfling
Sex
Male
Alignment
Evil
Voiced
No
Stats
ST 5, CN 8,
DX 22, BE 8,
IN 9, WP 8,
PE 12, CH 8
Skills
Melee, Dodge, Prowling, Pick locks, Pick pocket, Backstab

Aptitude

Neither
Tollo Underhill is a halfling thief, imprisoned in the Dernholm Pits. The player can rescue him from the Pits and then they'll have to shame him into staying but he will only offer to join them if they have a high evil reputation.
Weldo Rubin
[
]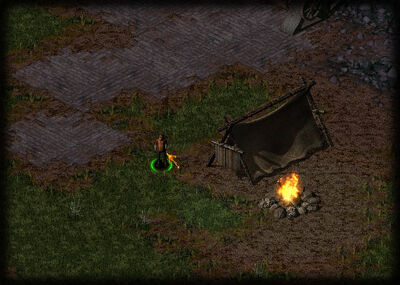 Appearance

Location
Gateway to the Wastes
Initial Level
30
Race
Halfling
Sex
Male
Alignment
Neutral
Voiced
No
Stats
ST 6, CN 10,
DX 16, BE 8,
IN 7, WP 8,
PE 13, CH 8
Skills
Dodge, Backstab, Prowling, Spot Trap, Pick Locks

Aptitude

Neither
If you're persuasive or polite to Weldo, then he'll offer to join you. Weldo is a rare breed, a halfling adventurer. He is a classic "thief" type character. His skills include dodge, backstab, prowling, spot trap and pick locks (including expert status). But he starts out at level 25, so by the time you finally get to him, he'll probably be too weak to help you.
Raven will become available to join your party once you've discovered what happened to the Black Mountain Clan. She's a bow expert, so she's useful to have around if you need a support character (and have a lot of arrows).
Raven will object strongly if you have Z'an in your party and will force you to choose between them, unless you have max charisma.
Beside her skills with the bow and her ability to heal, Raven is also a very well developed character and can bring out some interesting conversations. Having her in your party could also create a romantic relationship between herself and the main character, provided that the main character has a beauty of at least 10 and is of a suitable race. If you wish to pursue a relationship with Raven, you will also have to pick the right dialogue choices (which shouldn't be hard to notice) and not take M'in Gorad's Stillwater Quest. If Raven doesn't flirt with you before you look for Renford, then she will only treat you as a friend.
Loghaire Thunder Stone
[
]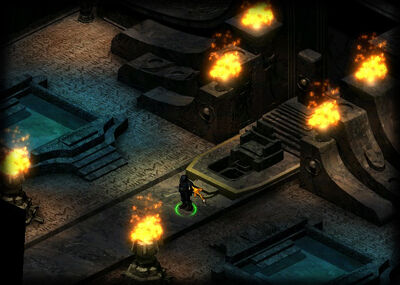 Loghaire Thunder Stone is the self-exiled leader of the Wheel Clan dwarves, the dwarf responsible for the banishment of the Black Mountain Clan. Adding Loghaire to your party is an involved process. To start out, you must speak with his son Randver about the dwarven philosophy of Stone and the Shape. Getting the dialogue option for that requires 10 intelligence (you can simply boost it with an Essence of Intellect). Then, when you finally meet Loghaire you must discuss the Stone and the Shape philosophy with him to convince him to end his exile. Then he'll offer to join you after you've found out what happened to the Black Mountain Clan. He is another pure fighter type, specializing in melee and dodge.
Appearance

Location
Black Root
Initial level
35
Race
Human
Sex
Male
Alignment
Good
Voiced
Yes
Stats
ST 7, CN 8,
DX 18, BE 9,
IN 9, WP 8,
PE 19, CH 8
Skills
All technological disciplines (one schematic in each)

Aptitude

Technology
Franklin Payne is the most renowned adventurer in all of Arcanum. He is a thrill seeker, who is always looking for adventure. Franklin will be in his home in Black Root after his latest adventure, coincidentally when you are also in Black Root searching for a boat to travel to Thanatos. The player can chat with him, and if they mention that they are traveling to Thanatos, then he will see this as an opportunity for further adventure and he offers to join the party, regardless of the player's level. He has knowledge of many of the more dangerous locations in the game, and regales the player with anecdotes of his adventures as they travel the world of Arcanum. If tensions between Franklin and the player arise, then a spot of Earl Grey tea will patch things up.
Appearance

Location
The Void
Initial level
45
Race
Human
Sex
Male
Alignment
Evil
Voiced
No
Stats
ST 18, CN 16,
DX 20, BE 6,
IN 11, WP 7,
PE 17, CH 8
Skills

Aptitude

Neither
Kraka-tur is another of the legends serving out his imprisonment in The Void. If the player character is evil then Kraka-tur will offer to join their party, provided they return to him his journal from the Lair of Bellerogrim. Failing this, a highly persuasive character could convince Kraka-tur that they will free him from the void. Alternatively, the player can offer to return his eye, which is found in the First Panarii Temple after doing tasks for Hadrian the Archaeologist.
The Bane of Kree
[
]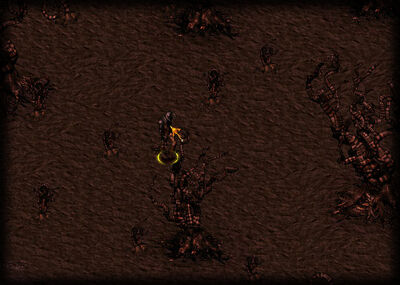 Appearance

Location
The Void
Initial level
45
Race
Human
Sex
Male
Alignment
Evil
Voiced
No
Stats
ST 20, CN 10,
DX 19, BE 6,
IN 8, WP 16,
PE 8, CH 7
Skills

Aptitude

Neither
Exiled to the Void, it is possible the Bane of Kree will not offer his services but instead attack any party of characters. It is not certain if this is due to madness from his imprisonment, a lack of respect of the player's ability, therefore deeming them deserving of death, or respect for the player's abilities, therefore providing him with the dignified combat he so desires. If The Bane of Kree does offer his services, he will do so only for the thrill of battle. The Bane of Kree is carrying Torien Kel's Ancestral Sword (one of the best weapons in the game), so be sure to get that from him regardless of what else you decide about him.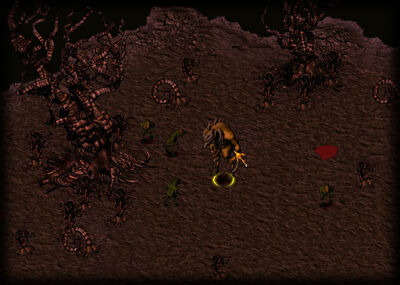 Appearance

Location
The Void
Initial level
50
Race
Human
Sex
Male
Alignment
Neutral
Voiced
No
Stats
ST 20, CN 17,
DX 18, BE 2,
IN 2, WP 13,
PE 9, CH 3
Skills

Aptitude

Neither
Gorgoth is one of the Legends, banished to the Void for his insatiable hunger and willingness to eat anything, including entire villages. Although his statistic page lists him as Human, he is always referred to as bestial and has a monstrous, disfigured appearance. In order to convince Gorgoth to join, all the player must do is momentarily satiate his hunger. When you find Gorgoth in the Void, he'll tell you that he's hungry. If you have a void animal carcass with you which is found on the void lizards in the area, then he'll accept that for food and become available to join you. He will keep asking for more food as time passes, so it is best to harvest and carry as much as possible before entering Kerghan's castle. Note that Gorgoth does not care about the player's level, unlike most other followers. Also note that Gorgoth will not equip weapons or body armor, but will equip everything else.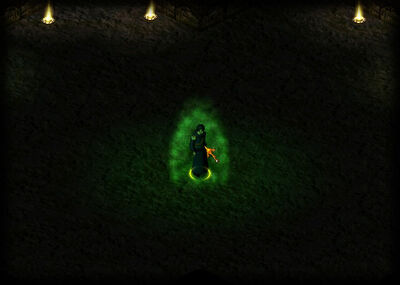 Appearance

Location
The Void, Arronax's Prison
Initial Level
50
Race
Elf
Sex
Male
Alignment
Neutral
Voiced
Yes
Stats
ST 12, CN 10,
DX 14, BE 9,
IN 16, WP 18,
PE 9, CH 10
Skills
Fire, Force, Meta, Necromantic White, Temporal

Aptitude

Magic
When you reach the Void you'll discover that Arronax has had nothing to do with the events in Arcanum. In fact, he'll inform you that he's been imprisoned for over 2000 years, and that it must be Kerghan who is planning to return from the Void.
Much of the game story points towards Arronax as the primary antagonist, although by the time he is met, he is unaware of the plots that he is being framed for. If the player attempts to free him from the void then he will offer to join them and is a vital character in attaining a peaceful resolution to the game. To do that, simply kill the spirit snake patrolling in front of his cell. You must add Arronax to your party if you want to talk your way past Kerghan at the end.
Note that Arronax won't wear any type of body armour (including robes), and he will only use a staff as a weapon. The character panel also incorrectly states him as being Human instead of Elf.
Temporary Followers

[

]
Boggs will ask you to rescue her from the Isle of Despair, and she'll tell you about a tribe of nomadic women on the other side of the island. However, the nomadic women are reluctant to allow Boggs to join their ranks, unless she proves herself by escaping and making her way to their camp. If pressed the leader will give you a rusty revolver to help her. You can help Boggs escape the camp and then deliver Boggs to their camp. Alternately you can take her with you when you leave for Ashbury. Either way, Boggs will leave your party once you've completed her quest.
Otherwise, immediately after you arrived to Ashbury you can click to her "body" (not to her picture) and tell her to wait. Then you can tell her "I will take you out from here, even if I have to kill the guards myself." again, like as you were on the Island of Despair again. After that, she will rejoin to you, and follows you anywhere, like the other followers. There is no Fate point to gain by releasing her in Ashbury, and she does not count into your maximum followers number.
If Thorvald is a part of your party, she will not join and you receive a notice that she is wary of him. However, she will not react if she is already in the party and thus both can be taken off the island if she is added first.
She is a strong melee fighter, and a healer too, so she can be useful, but if you choose that way, you have to know it is a bug: every time you reload the game, there is a chance that she will say "Thank you for rescuing me..." and leave the group - as she was had to do after arriving to Ashbury from the Isle.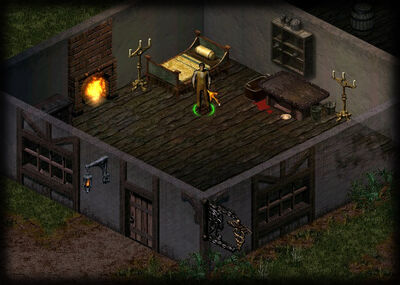 Doc Roberts will accept your aid in defending the Shrouded Hills Bank from the Bowen gang bank robbers. He will leave your party as soon as you've completed the quest, or if you spend too long on detours instead of following the quest directly.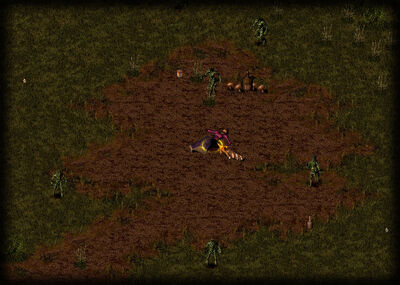 Lady Druella is involved in the melee mastery quest. If you "rescue" her for Sir Garrick Stout, then she'll follow you back to Dernholm before leaving your party. If you kill Stout for her and then cure Adkin Chambers (found in Stillwater) of blindness, you'll eventually find Druella and Chambers in Roseborough living happily ever after.
Murgo
[
]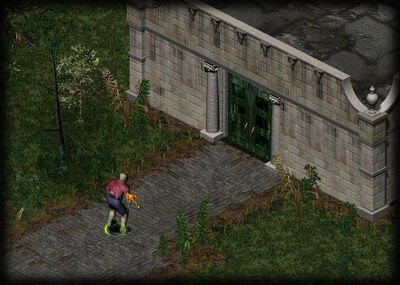 Murgo will join your party if you're attempting to fix the altar to Halcyon at Vooriden, and he'll leave your party as soon as you've completed the quest, or if you spend too long on detours instead of following the quest directly.  Murgo's stats are exactly the same as Sogg Mead Mug's, level for level.
Swyft
[
]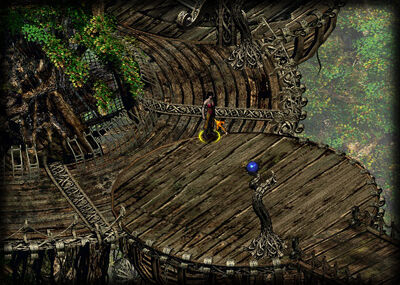 Appearance

Location
Qintarra
Initial level
9
Race
Elf
Sex
Female
Alignment
Neutral
Voiced
No
Stats
ST 11, CN 7,
DX 12, BE 9,
IN 7, WP 9,
PE 8, CH 8
Skills
Swyft will ask you to escort her to Tarant and, if you agree, she'll stay in your party until you deliver her there. She will leave the party if you spend too long on detours instead of delivering her directly.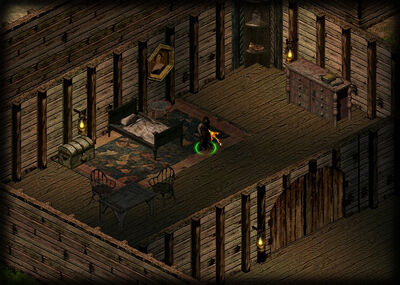 Thorvald is only available if you are not a gnome. His reaction to you is unaffected by Beauty.
You'll need to be at least level 22 and have at least 9/20 points (2+ ranks of persuasion) to convince Thorvald to leave his position on the island and try to escape with you (ask him if he's a dwarf or a gnome). He will travel with you to the Wheel Clan where he will leave the party and you will gain the "Rescuer of Thorvald" reputation. He will also leave if the player spends too much time in other locations between Ashbury, the Isle of Despair or the Wheel Clan.
It is possible to have Thorvald stay with you for the rest of the game if you remove him from your party before you approach the entrance guards at the Wheel Clan (otherwise they'll initiate a conversation and Thorvald will leave your party to rejoin his clan). After the conversation, it's safe to add Thorvald back into the party.  Thorvald does not count as a slot. However if you do this, he will not stop complaining about getting to the wheel clan.
---
FOLLOWERS LOCATIONS SKILLS STATISTICS
ITEMS
Schematics Chemicals Food Potions Technological Objects
Armour: Rings Boots Gloves Necklaces Helmets Shields Torso
Weapons:
MELEE: Axes Maces Staffs Daggers Hammers Swords
RANGED: Bows Firearms Throwing