Magick or Technology? Eternal opposition, opposition in all things. Even things Arcanum touched this struggle, even on ordinary and everyday objects she left their mark. Followers of the mysterious magical cults and new-fangled "sharpshooters" wise elder years lived openly watching magicians and inventors in the future - they all use and modify for your own purposes a variety of things. The only difference is that some prefer glowing like lightning swords and buzzing from their overflowing energy staffs, and others - long-range precision rifles and grenades terrifying in its power. Your choice? List of abbreviations used: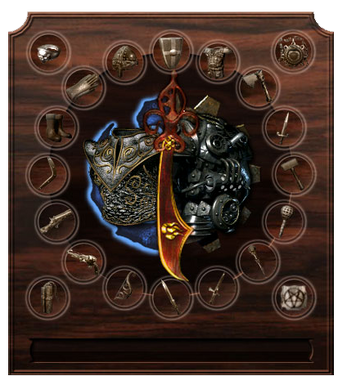 AC - armor class / armor class
BE - beauty / beauty, appearance
CH- charisma / charm, charisma
CN - constitution / physique
D - damage / physical damage
DOT - damage over time / repeated damage
DR - damage resistance / damage resistance
DX - dexterity / agility
ED - electric damage / damage to electricity
ER - electric resistance / resistance to electricity
FD - fire damage / fire damage
FR - fire resistance / resilience to fire
FT - fatigue / energy
HT - hit / Damage
IN - intelligence / intellect
MA - magick aptitude / inclination in magic
MR - magick resistance / Resistances
MSR - minimum strength requirement / required parameter forces
NP - noise penalty / penalty parameter noise
PD - poison damage / poison damage
PE - perception / perception
PR - poison resistance / resistance to Poison
QU - quality / current durability
RNG - range / range
ST - strength / physical strength
TH - to hit / increases chance to hit
WE - weight / weight in stones
WP - willpower / mental strength
MiscellaneousEdit
Miscellaneous
Edit
---
FOLLOWERS LOCATIONS SKILLS STATISTICS
ITEMS
Schematics Chemicals Food Potions Technological Objects
Armour: Rings Boots Gloves Necklaces Helmets Shields Torso
Weapons:
MELEE: Axes Maces Staffs Daggers Hammers Swords
RANGED: Bows Firearms Throwing
Community content is available under
CC-BY-SA
unless otherwise noted.