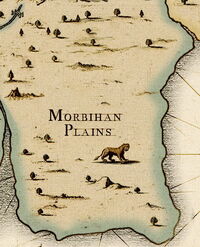 The Morbihan Plains are a large, mostly lowland region of the continent of Arcanum, in the central eastern portion of the landmass.
Settlements
[
]
Tarant, the capital and largest city of Unified Kingdom and the largest city of the entire continent, lies at the mouth of a great river that forms the western boundary of the Morbihan Plains.
Ashbury is the largest town on the eastern coastline of the Plains. Stillwater is a town on the northern edges of the Plains, under the Grey Mountains. There are also some villages, such as Vooriden.
See also
[
]