It requires a certain degree of charm to persuade others to take action, or to convince them that we are speaking the truth. Within the confines of the game, this particular skill operates passively in dialog situations.
Persuasion Apprentice: Followers will wait for one's Character longer than normal.

Trained by: nJongle Dunne (Shrouded Hills), Raymond Pierce (Ashbury), the tailors in Tarant (Thurston's Fashion Palace) and Black Root (The Dancing Needle), the magick clerk in Tarant (Zeramin's House of Darke Magick)

Persuasion Expert: gain a bonus of 1 extra Follower slot in addition to Charisma bonus.
Persuasion Master: anyone will join with the Character, regardless of reaction to one's alignment.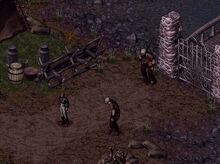 4/20 (1 Character Point, no penalties assumed) in Persuasion

persuading Lukan to leave Shrouded Hills
persuading the receptionist at P. Schuyler & Sons to let you through
persuading Thorvald Two Stones to give his special glasses (dumb character only)
persuading Ogdin to let you speak with Thorvald
asking the Mayor of Ashbury about what his concerns are, leading to a sidequest
persuading Laura to work for Madam Lil's
persuading Ristezze to reveal the location of P. Schuyler & Sons

6/20 (2 Character Points, no penalties assumed) in Persuasion
8/20 (2 Character Points, no penalties assumed) in Persuasion

Mayor of Blackroot
Myrth
William Bench
Pub Patrons
Pub Maidens

10/20 (3 Character Points, no penalties assumed) in Persuasion

persuading Weldo Rubin to mark Tulla on your map
Pub Maidens (14 Beauty also required)

12/20 (3 Character Points, no penalties assumed) in Persuasion

Prince Farad
Gilbert Bates
convincing Kan Kerai of the Bedokaan that war is not the correct way
Ale Warehouse Guard
Spot Trap Master
Garrick Stout the Melee Master
Sebastian

13/20 (4 Character Points, no penalties assumed) in Persuasion
14/20 (4 Character Points, no penalties assumed) in Persuasion

"persuading" the Tarant Librarian to reduce the price of membership down to 5000 (dumb character only)

15/20 (4 Character Points, no penalties assumed) in Persuasion

Gilbert Bates
Sammie
Pub Thugs

16/20 (4 Character Points, no penalties assumed) in Persuasion

Hadrian the Archaeologist
persuading Arronax's prison guard to let you through

18/20 (5 Character Points, no penalties assumed) in Persuasion

persuading the conductors of the Mage's Caboose sections of trains to let you on as a high aptitude mage

19/20 (5 Character Points, no penalties assumed) in Persuasion
20/20 (5 Character Points, no penalties assumed) in Persuasion

Vegard MoltenFlow
Willoughsby
Kerghan (also requires 20 Charisma, probably)